10.4.2008 Pucon, Chile


After five months of travelling it was definitely time to dust off the zen slippers, chalk up the hands and hit the rock!
Bariloche
After rolling off the Ferry in Puerto Montt we drove straight to Bariloche, missing out on a few things on the way but we had decided that we need to get moving. After all we are nearly half-way through our allotted year…Yikes! After warming up our decidedly rusty climbing muscles on the local crag Cerro Otto for a couple of days we planned to go to Valle Encantado and then on to Frey.
Valle Encantado: climbing and birthdays
Finding out about Valle Encantado was no easy task. The locals were keeping mum
because there are some access issues, it being on private land (some private forestry company) and highly flammable land at that. While climbing at Cerro Otto we spoke to some other climbers, managed to get an 'illegal' route guide and some information on the whereabouts of this popular sport climbing area. We drove out to Confluencia, basically a garage 3 or 4 kms from the crag. Packed our backpacks for a couple of days camping and walked to the spot where you have to cross the river- Yet another obstacle to climbing in Valle Encantada. This is the point where you can either catch the attention of the (fairly numerous) climbers on the other side, provide your own floating transport or...swim across to find floating transport. That done we settled in for 3 days…make that 7days of camping, swimming, tai chi and of course lots of sport climbing.
As we originally planned to stay only 3 days we needed to stock up on groceries. Good timing as we needed a rest day and it was also Axel's birthday. So 'grocery shopping' involved lots of beer, wine and chips. The evening was spent celebrating in the company of new climbing friends from all corners of the world, swapping travel and climbing stories by candlelight late into the night.
Frey
Now that we were 'mentally' prepared for some trad climbing we headed for Frey. Fairly well-known and well-loved in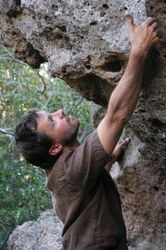 local (and international) climbing circles. Well worth the 4 hour slog up to the Refugio where incidentally we camped as there isn't always room, in January there can be up to 100 tents! Unfortunately Axel got hit by some stomach bug and we couldn't go climbing the first day. Frustrating with cloudless skies and a weather change on the way.
Once recovered we tried a gorgeous 3 star route on Aguja Frey called Diedra de Jim. Axel still feeling weak I led. The first pitch was still do-able and enjoyable but the second was rather intimidating with one crack running through a smooth slab and nothing else. It was the perfect route to practice hand and foot jams and placement of friends and topping out brought a sense of elation after the adrenalin rush. Normally I would have chickened out and have Axel lead.
We managed to do one more brilliant 3 star route on Aguja Frey before we were chased away by the weather. We walked down in the pouring rain rather sad that our to-do list of classic Frey climbs would be left incomplete.