18.3.2008 Bariloche

Up 'north' here in Bariloche, we are still in Patagonia, but in climes that don't require at the minimum a fleece, windbreaker and woolly hat everytime you walk out the door.

Torres del Paine

We decided on a return trip to Torres del Paine after the last drenching chased us out. The friendly rangers let us in for half price for being the first Liechtensteiners. Just a few days to relax and enjoy the views of the Cuernos from a distance without having to shoulder a heavy pack.

Through the straits and narrows of Chiles coastline

Following in the footsteps, or should I say wake, of explorers who sounded out these narrow channels we travelled for four days from Puerto Natales to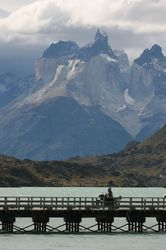 Puerto Montt. After being welcomed aboard by our hosts at around midnight we made our way to our cabins - four cosy bunks we shared with an Australian couple. We had stocked up on liquor for the journey in case the bar was too expensive but that night we headed straight to bed after our rainy, windy ride back from Torres del Paine. We left Last Hope sound in the early morning hours and motored slowly through a twisted and tortuous route that is the inside passage for ships avoiding the pacific storms. Our morning coffee was taken on deck while our ferry squeezed through channels with names like Victoria Pass, Nelson strait or the English narrows. The names of the narrows and islands sounded mostly like the 'landed gentry' of the emerald Isles rather than anything south american. The reason being that British naval officers did most of the charting in these areas.
The only port-of-call on the trip was Puerto Eden. A tiny settlement of 250 people who survive on the fishing and mollusc industry. Among the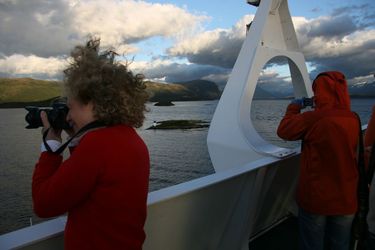 inhabitants are about 15 pure-blooded kaweskar or alacalufes, among the last of the indigenous population who made their home in these waters. The alacalufes were amazingly adapted to the severe patagonian environment, studies show their body temperature was a degree higher than the caucasian average ( Read 'Rounding the Horn' by Dallas Murphy). To think that the woman would dive for crabs and shells in these freezing cold waters and that even the children went without any form of clothing as it would just get uselessly wet in the erratic weather characteristic to Patagonia. Unfortunately they couldn't adapt to western civilisation which killed off most of them with their diseases or their greed.
As we sailed through the mist past sheer granite cliffs cloaked in green and ribboned with waterfalls it wasn't hard to imagine a small family of
alacalufes collecting mussels on the rocky coast, gliding through the dark waters or making camp on some sliver of a beach.
The northern half of the route left the calm, protected waters of the channels to cross an area known as the Golfo de Penas, or Gulf of Distress. Before reaching the relative calm behind Chiloe island we had to supress queasy stomachs from a swell off the Pacific for about seven hours.
The last day of our trip, included a few firsts: the first time we saw any signs of civilisation (apart from Puerto Eden), our first views onto some impressive volcanoes and it was a gorgeously hot day. The first real summer for us in 5 months!
It being the last day we consumed our last rations of liquor and danced the night away.