4.1.2008 Punta Arenas

Punta Arenas 4/01/2008

Have we mentioned the wind yet? Patagonian wind? It's not a constant strong wind but it blows in gusts of up to 70km per hour (or more). On tar it's bearable although tiresome but on gravel roads there's always the possibility that a gust will push you onto that treacherous "middle mannetjie" (middle man - the hump in the middle). Riding into Chalten at an angle and with a passenger made me really glad that tourism had brought tarred roads to this area.

Chalten - outdoor mecca

Who hasn't heard of Fitzroy, Cerro Torre and the Southern Ice Fields. These are all accessible from here along with bouldering, sport routes, trekking etc. We did a fantastic 3 day hike to Paso del Viento, which crosses a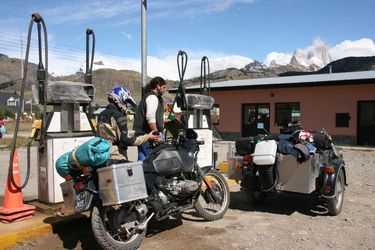 glacier and gives you a view onto the ice fields, and a day hike up to a viewpoint for Fitzroy. The great thing for the big wall climbers here is that the wait for the good weather can be done in town where there is plenty of beer, yummy food and company. Speaking of big wall climbers...we had another of those small world events. We chanced upon two swiss guys from the Rhine valley that we know, Stephan and Marcel. They were going for the Compressor route on the Cerro Torre so we got a chance to get the inside story on how the whole thing works...over a few beers of course. When we left they were still waiting so I hope they got their weather window and all went well.

Perito Moreno Glacier

On the southern side of the Parque Nacional los Glaciares (with Fitzroy being to the North) is the Perito Moreno Glacier. Our pit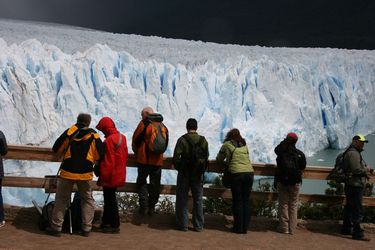 stop before heading back into Chile and Puerto Natales. There are bus loads of people going there everyday, I think it is one of the most visited sights in Argentina. For good reason as it is a thoroughly entertaining piece of nature. A 55m high wall of glaciar calving into lago Argentino at quite a rate (40cm a day) accompanied by creaking, cracking and crashing. Just the place to hang around for hours waiting for big chunks of ice to fall off.

Little fluffy lambs

For Christmas Eve Willy and Renato at Backpackers Magallanes were organising a "cordero", a lamb barbecue typical to patagonia. The day before Willy had gone to the Estancia to 'supervise' and film the slaughter so we got to see all the gory details. We will try to organise the clip. (Not suitable for sensitive viewers!)
You'll be surprised to know, that the ex-vegetarian ate some...though not much!

Torres del Paine

Leaving the bikes behind in Puerto Natales we took a bus out to Torres del Paine National Park to hike the Circuit. An 8 day hike that takes you round the back (north) of the whole massif and to the viewpoints of the famous granite towers. I had been there 8 years ago and was curious to see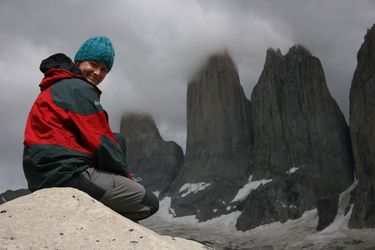 what had changed. I was disappointed, not by the fantastic scenery but by how commercialised it had all become. The campsites are largely privatised and expensive and the ones that are free are poorly managed, overcrowded and used by hiking illiterates (who don't know how to shit in the woods properly). They now have catamarans that cruise the lakes and the entrance fee has gone through the roof. Ok, Ok I will quite griping. On the bright side, hiking the circuit you are off the beaten 'W' (a four day hike taking in the viewpoints of the towers) track for 4 days and those big granite walls really are very very impressive.

The other highlight was eating after walking for 6 hours, being the rations manager I think I managed to make good meals with little weight. Axel might not agree with me there as he carried most of it. But to give you an idea:
Breakfast - instant oats with dried fruit or pancakes with honey
Lunch - tortillas/crackers/pita with cheese and salami or tuna plus chocolate or nougat
Dinner - Polenta with onions, cheese and tuna or pasta or ravioli with various sauces
Snacks - biscuits and trail mix

Note on the latter: Axel decided that trail mix was just too american a word and that we had to come up with our own original term. The trail mix consisted of dried fruit, nuts and gummi bears hence the dubbing of it as 'fart mixture'. It seemed to work particularly well on Axel because even though his pack was heavier he could still walk much faster. I put that down to his unique use of the fart mixture as a turbo charger.

Our second last evening on the hike was New years Eve. We celebrated it at 7pm in the tent with a miniature bottle of pisco sour. 7pm here is twelve o'clock in Liechtenstein and South Africa. We were asleep by 11. Happy New Year!!

Small world event no. 4

We have been trying to catch up with Dave Taylor, a South African (who is also out in Patagonia trekking) since El Chalten with no luck. One plan was to meet on Christmas day in Puerto Natales but that didn't work out. Boxing day comes and we are on the bus to Torres del Paine. It stops for a 5 minute break at a cafe and at the same time a bus travelling in the other direction stops. Guess who we see...Dave.
(ps. event no. 1 was seeing another Liechtensteiner in the city of Buenos Aires on a night out in Palermo)

Small world event no. 5 has just happened here in Punta Arenas where we will be based a couple of days for some repairs (shocks are not looking too good). 6 bikes ride past the Hostel we're in and I wave 'cos that's what you do when other bikers ride past. It was Sebastian (from the Container ship) and Gerben from Dakar motos. Nice to see them again.