The art of motorcycle maintenance
After the pedestrian ups and downs of our Choquequirao hike came two days of the 2 and 3-wheeled variety: up one 4000m pass then down and up another to get to Puquio. We had trouble finding a hotel in that bleak little town and every dead end ended up with Axel having to kick-start the Russian (no easy task on a half ton machine!). That could only mean that Axel had yet another mechanical mission on his hands.
The next morning Axel got to work on the Russian in the courtyard of the hotel. Knowing Axel would not relent or remotely cheer up until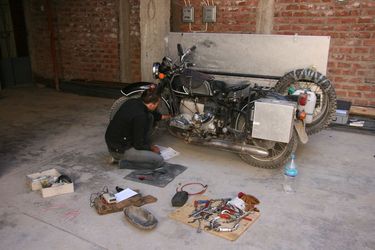 the job was done, I spent the morning trying to raise his spirits with a constant supply of tea and biscuits. It was while stocking up with more biscuits at a small corner store that I got into a conversation with a group of boisterous and slightly drunk teachers (not setting a very good example I couldn't help thinking). They invited me to come round to the local school's anniversary festivities. So I gave up the policy of appeasement and decided to go and find some entertainment. It was after all my birthday!
When I arrived (the only gringa) proud parents were lined up around a large, concrete courtyard, stray dogs sniffed out food remnants, kids ran around dressed in colourful traditional costumes and peruvian music blared out from the bad speakers. The main entertainment came in the form of the various school classes performing choreographed dances. I came to learn that the traditional dances of Peru are a fixed component of every P.E. (physical education) teachers repertoire.
There was one really impressive group of 6 or 7 year olds that acted out a rather strange story. They were lined up in pairs, as man and wife I presumed, with one boy in the role of the Shaman in the lead. The couples first danced together acting out a romantic scene after which the 'men' and the Shaman proceeded to get drunk and disorderly, glugging down fake chicha (a local drink, like schnnapps) straight from the bottle. The men then chased after and caught the 'woman' with nets that were slung over their shoulders. The furious women struggled out of the nets and started to beat up the men. That's when it turned 'ugly' as the little ladies took out their knives and stabbed their husbands till the ketchup flowed! All very bizarre but highly entertaining. To watch the part if it click
here
.
That night we had a small birthday celebration of our own with one of our favourite dishes - Lomo Saltado. A Peruvian specialty, it is a fusion of Chinese and western dishes. Vegetables and beef strips are stir-fried and some french fries are mixed in. Something different but really yummy.
We left Puquio the next day exchanging the pasture greens of the mountains for a wild west landscape of erosion gouged conglomerates. Unfortunately Axels fix didn't last and we started having alternator problems again, with the Russian only lasting an hour or so before it sucked it's battery dry. With lots of improvisation and by swopping the batteries on the bikes we managed to keep moving. From the pass the Abra Condorserra we dropped down into the dry and shrubby Nasca desert.
Once again Axel had his work cut out for him with the Russian. We were lucky though, and found a talented mechanic in Nasca who could rewire the rotor on the alternator, a lost art we were sure, it would merely be replaced in Europe!
Free of the mechanical and administrative duties we rode out to a viewing tower on the Panamericana to glimpse part of the famed Nasca Lines. Immense drawings in the ground that were made by removing the red sand pebble layer to expose the whitish soil beneath. They range from simple lines to complex geometric patterns and stylized pictures of animals like birds, spiders, monkeys and fish. Dating back to 200BC and 700AD most people think they were for religious or ritualistic purposes but Alien landing sites are also a popular theory! We would really liked to have seen the petraglyphs from the air but there was just too much hawking and squabbling going on as tour operators tried to sell us plane tickets. Our budget also dictated otherwise.
So we had to make do with the frog, the hands and the tree, as well as other alluring lines that stretched out to the horizon. They were possibly part of some bigger picture that we, like their builders, will never get to see.