18.11.2007 Puerto Madryn
It was a wet and miserable morning when we packed up to leave Sierra de la Ventana. There was even snow on the mountains we had hiked up just two days previously! Not ideal weather for the 380 km bike ride to Carmen de Patagones, gateway to Patagonia. So we packed ourselves up like the Michelin man in our rainsuits and warm stuff and lumbered off grimly determined. We were after all entering tierra patagones...
Patagonian scenery
After leaving the hotel we had treated ourselves to after our cold ride we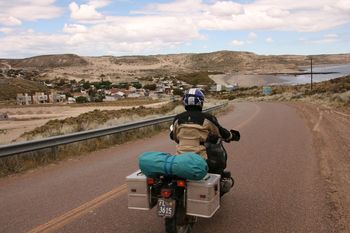 rode south on the Ruta 3. This time at least there was sunshine so we weren't wet and cold but the scenery was terribly monotonous and desolate, nothing but scrawny shrubs with the occasional wind whipped plastic bag attached and sheep. Quite similar to the Karoo in South Africa in fact - just add wind. We decided to push on till Puerto Madryn which would make it our longest ride yet with roughly 420 km.
Perros
There are a lot of vagabond dogs (and cats) here in Argentina. Some bark viciously and try to bite your calves when you ride past on your bike and they are not so nice. Others try to gain your sympathy with bambi eyes so you will feed them and are mostly harmless (except for fleas). Then there are the perros in a class of their own, a little bit silly but awfully entertaining. We had one such perro latch onto us when we went for a walk in Puerto Piramide on the Peninsula Valdez (which was our next stop after a day in Puerto Madryn). The walk was about 4 km to a viewing point where you could see sea lions and was mostly on a narrow footpath bordered by thorny scrubs. Perro (as we called him) loved to walk in front but he also frequently stopped to sniff holes, fetch sticks and rummage up armadillos. This did not quite match up to our steady pace so we were constantly tripping over or being tripped up by 'our' perro. The next clever trick perro tried out was with a snake. We had spotted the snake before perro -luckily- and I had grabbed a hold of him to make sure he didn't decide to investigate, it being a viper and probably poisonous. Axel was taking a couple of photos when perro managed to sneak off from me and rushed off to see what Axel was up to... and ran right over the snake!! Nothing happened thank goodness, but it could have been perros last walk.
Wildlife of Peninsula Valdez
We spent 4 days on the peninsula based in Puerto Piramides and did drives out to Punte Norte, Punte and Punte Delgado. It was not peak season for the animals but we still saw a fair bit. There were elephant seals wallowing on the beach not looking the least bit capable of physical exercise, who would have though these furry lard balls could dive up to 1500m or swim more than 30 000km in a year! We saw loads of penguins but no orcas munching on them or seals much to Axel's disappointment. We also went on a whale watching boat trip and got some glimpses of a mommy Southern right Whale training her calf in the art of diving. A Belgian couple we spoke to got even luckier and were surrounded by jumping, diving playful whales so much so they found it a bit scary. Lucky things! The inland part of the peninsula also had its fair share of wildlife: rheas (flightless birds), foxes, guanacos, horses, eagles and creepy fist sized spiders.
So now we are back in Puerto Madryn to clean the sand out of our ears, our food boxes and... well everywhere... feed up on asado steaks with the Austrian family we met on the boat, upload this and then we head for the 'hills'. Yeah!
Hasta la proxima R