Macchu Picchu then and now
The words Macchu Picchu conjure up images of lonely green peaks, haunting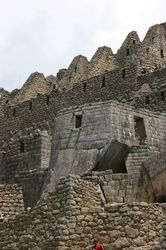 panpipe music and inaccessible mysterious ruins and as we walked those 10km along the train tracks and the banks of the Apurimac we experienced a tiny bit of what Hiram Bingham wrote of. Lush forest with orchids and hummingbirds, steep slopes and the odd exciting glimpse of the ruins perched on the ridge high above us. Of course we didn't have to slash our way through with machetes for days on end with heavily loaded donkeys and unhappy locals trailing behind. Then that bubble was burst anyway as we - the intrepid adventurers - were eventually confronted with the bizarre metropolis of Aguas Calientes. The official Macchu Picchu train station packed with hotels, restaurants, souvenir shops and of course…gringos.
It was 6 in the morning and we had walked up to the highest point of the ruins, the Watchman's hut, to take in the panorama. We were surrounded by jungle clad granite domes, mist still lingered in the labyrinth of deep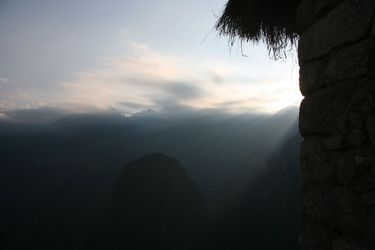 valleys around us and the sun had just pierced a cloud to spread out a fan of rays onto the opposite peak. The ruins spread out in neat curves of stone terraces and then clustered as temples and elegant houses on either side of the grassy central plaza. The peaceful grandeur induced amnesia for horrid Aguas Calientes, the ticket prices, the early morning hustle for the bus and the dusty switchbacks up to the ruins. We were up here marvelling at the mystery and sheer amazing feat of this place.
We wandered around the ruins for hours stopping to admire various details:
the huge blocks of the Temple of the Sun, the intricate ceremonial water channels, the Royal living quarters, the dizzyingly steep terraces and Aishwarya Rai....Wow! For those not in the know Aishwarya is a hugely famous Bollywood star (and former Miss World) and here we were getting a few peeks of her as they filmed dance sequences for a big budget film in the ultimate setting of Macchu Picchu, Peru.