La Paz and it's mountains
The full name of this crazy city as given to it by the conquistador Alonso de Mendoza in 1548 was 'Nuestra Senora de la Paz', now more commonly known as La Paz or alternatively 'the Hole'. From a distance the first sign of La Paz was the glitter of El Alto's tin rooves - the highest (4100m) and poorest part of the city. Looming up behind the still unseen hole of La Paz were the icy peaks of the Cordillera Real. Aptly named the Royal Range and sitting like a crown of thorns around La Paz with the monstrous snowy sentinels of Huayna Potosi and Illimani gaurding it's north and south. The main road through El Alto that leads into La Paz is a huge 5 to 6 lane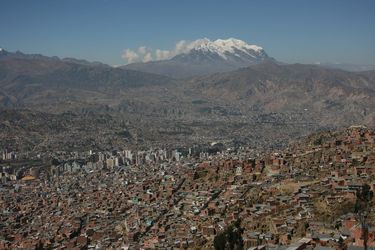 affair but only theoretically. In reality two of those lanes are for traffic, one or two are for the street vendors and the other two are packed with minivans whose teenage assistants constantly call out their destinations in a rhythmic chant. No such thing as bus stops here - a simple command from the passenger 'bajo aqui' (let me out here) suffices for a minivan to screech to a halt in front of you regardless of where, in the middle of the intersection and blocking all traffic being also quite likely. Once we had made it through this chaos we dropped down into the bowl of the city. There, spread before us was a strange mix of colonial relics, a huddling of skyscrapers but mostly cheap red brick housing, the latter perched on the outermost slopes, crawling up the steep sides of the 'Hole' and overflowing onto the altiplano like lego. We made our way down the 'Prada' to the southern suburb of Mallasa and Hotel Oberland, set in the Valle de la Luna with it's weird geological formations. This was to be base camp for our forays into the mountains nearby.
An ideal first trip is to the Condoriri range, it has a number of snow-free peaks for acclimatisation, some interesting do-able mountaineering peaks and if you are up for it some technically difficult and impresssive looking routes. As an extra bonus they are all accessible from one base camp which is nestled in a narrow valley next to a steely blue lake with Condoriri (meaning Condors head but I prefer to think of it as Condors eyre) looming up above it. We organised a donkey for the heavy stuff and a driver to take us to Tuni, a small village at the head of the trail. Tuni was at about
4400m and our base camp would be at 4700m and on the two hour hike in we definitely noticed how 'thin' the air was and were quite glad we had our sturdy little donkey. Even gladder we had someone to lead it as these small cute fluffy donkeys can be a right handful to manage. Our stern donkey keeper was a young lady from Tuni dressed in the typical flounced skirts, smart hat and stripy carrying cloth and with her well worn sandals she put us, with our sturdy mountain boots and walking sticks, quite to shame with her pace.
After a nights rest we started off for the snow-free Pico Austria at 5200m to acclimatise. Our slow going and breathless walk was rewarded with spectacular views onto the peaks we had in mind to do, the winter-yellow plains of the puno (or altiplano) and all the way to the northwest the blue blur of Lake Titicaca. This was the highest I had ever been in my life! That night we slept much better thus were acclimatising well but we decided to do a second pre-peak so we would be in good shape for the walking on the glacier. So up on the other side of the valley we topped a shale covered anonymous summit walking past llamas, small andean bogs and pools of crystalline water. It gave us another viewpoint over the glacier we were to climb the next day and confidence in our lungs.
It was an early start at 3am for my first glacier ascent up the P.D. (peu difficile) rated Pyramida Blanca. A full moon night meant we could walk without our headlamps once past the icy tongue of the glacier. Being a rookie the resounding pistol shot sounds of the cracking ice made me jump nervously every time. It was a relief to get off the brittle melted ice and onto the comfortingly compact snow covered slopes. By dawn we were traversing out past a labyrinth of huge crevasses and front pointing up steep slopes to reach our peak. A new day and a new record high of 5233m, looking down onto a carpet of clouds hiding the amazon basin from view before some people have even had breakfast!
The next day an hour earlier we were walking the same glacier in the silver light of the moon. We wanted to climb Pequeno Alpamayo, a steep and aesthetic snow ridge named after a higher, harder twin in Peru. A slog up the glacier past open crevasses and dimpled indentations of covered ones till we peaked out onto a plateau unfortunately exposed to an icy wind. Then it started getting cold. To the right was a steep looking slope made easy by the steps tread into it by the many cramponed booted feet before us. A delicate step over a crevasse and we were onto the broad back of Tarija, a pre-summit that looked onto the spiny ridge of Pequeno Alpamayo.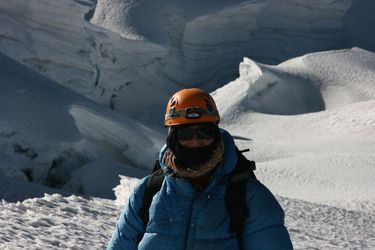 By now we were really cold but luckily the sun was just hitting Tarija and we stayed a while to drink tea and watch some mountaineers descending the ridge. Axel decided we shouldn't do it as the descent of the ridge was a tricky one and needed two picks and we only had one each. I was quite happy to turn around being very cold and intimidated by the steepness of the ridge. It was after all only the second mountaineering ascent and I lacked experience in use of rope, pick and crampons. After four days straight of climbing it was time for a break in the city, So we organised a donkey and it's mistress to head back to La Paz to eat some good food, drink a few beers and relax before our next excursion into the mountains.
Huayna Potosi looms up to the north of La Paz and is only two hours drive away. This time we had organised a taxi ourselves deciding to forego the
agencies. A mistake we won't make again because half an hour after the appointed time when he still wasn't there Axel rang him up - he said he was 'caught in traffic'. We suspect we got him out of bed. After the promised 15 minutes he still hadn't arrived and we started making other plans stopping taxis in the street. Most didn't want to go due to the rough roads and those who did asked too much. Still no sign of our taxi driver, finally an hour and a half later than planned we set off with an agency taxi that ended up being more expensive than our usual.
At the base of the mountain we stayed at a refugio run by one of the few, in fact the only, bolivian female mountain guide by the name of Patty. At Campo Alto the next day we set up our stoves to melt snow and cook in a dingy, unhygenic looking cooking tent next to the quechua speaking cooks and guides as most climbers were here on an organised tour. We, however, were quite glad to be cooking ourselves after seeing the grease encrusted pots they were using! Melting snow for our next days drinking water was a time-consuming process and we were last to bed at around eight. We left at 3:30 the next morning. There was no moon and the hardest part was walking with a montonous circle of light with it's endless unchanging picture of
white and only the crunch of the crampons for sound company. We reached Campamento Argentino, a snow camp at the lip of a big bowl that was noticeably colder. Then the crux of the climb - the bergschrund - where a steep slope led up to a crevasse and an even steeper slope out of it onto a ridge. We could see torches lighting up it's insides as other climbers made their way through it. We made it through all right with a lot of huffing and puffing but were both still freezing cold when we got up to the ridge. The view was stunning with dawn tingeing the sky and a cloud carpet in yellows and pinks and the lights of La Paz twinkling in the distance. But what with the cold - we couldn't feel our feet anymore - and my not feeling too strong, we decided to turn back. We belayed each other down the crux and plodded back down the glacier.
After a couple days recovery we decided to give it another bash with
plastic mountaineering boots this time round to combat the cold. All went well till an hour or so after our lunch break when I started getting nauseaus. At the campo alto my throwing up was the end of my second summit attempt. Axel went as planned and returned victorious albeit with a delayed reaction to what we suspect were dodgy olives. At least one of us made it up Huayna Potosi (with a rumbling stomach) and can proudly claim a 6000er.