the great white Uyuni
There is a complicated hierarchy of transport types her: mini, micro, semi-cama, cama and cama with extras such as a half-decent movie. With us backpacking we were getting to know the finer points of booking a ticket: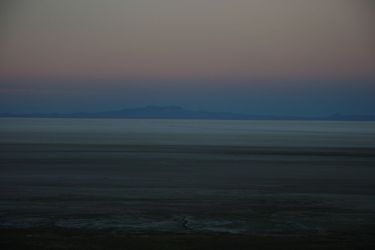 check out the bus; make sure you have a window that opens; make sure the loudspeaker is not directly above you and so on. So after we had picked out the bus (to be honest there weren't a huge amount to choose from) to take us to Uyuni we were to discover all of it's shortcomings. The 6 hour drive over body-rattling sandy roads, where dust squeezed in everywhere to clog up your nostrils, was a stout test for any vehicle or passenger. After leaving Cerro Rico behind in our dust the dirt road climbed up and down and across several steep valleys and narrow gorges. The scenery was quite spectacular with ridgetop views of vast expanses of crumpled geology. There was a quick halfway stop at a tiny farming village for a soup lunch served by two little girls and a dash behind the thornbushes - No hay banos! We passed other picturesque poplar lined adobe villages which invited to linger but the public transport system of course doesn't work that way.
In Uyuni after settling into another concave, floral and kitsch velvet bedded room we went in search of the agency that would be the best jeep
tour to see the salar and lakes. Not easy considering there were over 80 tour agencies and they seemed to have all been throwing their pitch at us since we got off the bus. It was low season and they were desperate to fill their jeeps. We checked out a few agencies and there was little difference between what they offered. The decisive factor was whether what they offered was what you actually got. We decided on Blue line: a good reputation and an impressive lady who spoke goodness knows how many languages but most important an interesting group list. A south african (yeah), english and czech couple all more or less around our age were on it. We thought there could probably be nothing worse than to be squeezed into a jeep with a mono-national group of twenty-somethings out to party.
Not one hour after we had laid down the red bolivianos we were on the jeep and had met Vera, 'Czech Honsa', Cath and Simon and of course our driver,
cook, man Friday, Johnny. First stop was the train graveyard where apparently you could inspect the bulletholes that Butch Cassidy and the Sundance kid put into a train at their famous last train robbery. Johnny didn't know which one it was, shucks, and there was so many of them rusting away there. At this point we had joined the convoy of about 5 or 6 4x4's that follow the same route at exactly the same times. A feature of Bolivian tourism that I will never understand - safety in numbers maybe - perhaps it makes some sense given the possibility of breakdowns in these far-away places.
We all dutifully filed out of the jeep to join the flock of tourists at what was supposed to be a stop to see a salt factory but what in reality was a market for souvenirs. What a let down. Out of the 25 or so tourists Axel and I were the only ones who paid a few coins to get shown around the 'factory'. The salt was fire-dried, ground, iodinised and packaged in a small warehouse built of salt blocks. At the final stage we found a moody woman surrounded by her ragged, runny-nosed little ones all giving here a hand with the job. A bit disheartening her attitude to us but not surprising in light of the tourist buying frenzy happening outside.
Then we were on the salar and an endless blinding white stretched out before us to merge with the dark backdrop of the mountains and the intense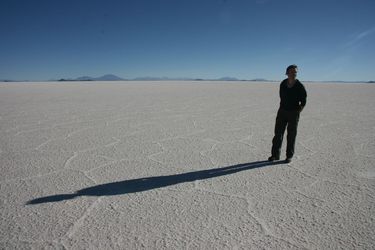 blue of a cloudless sky. We were heading for the Isla Pescado that was roughly in the middle of the salar and a faint rubber trail led to it. We passed the strangest site in this nothingness - a Star of David and a cross on a black stain in the whiteness. Cath knew the story - two jeeps had collided (and aided by the spare fuel cannisters on the roof) caught fire. Five israelis and six japanese tourists died. We were all a bit quieter after that not only in sadness but in confusion as to how two jeeps could collide head on in this huge expanse.
Isla Pescado, with its century old cacti, gave amazing views over the surrounding salar from it's small peaks and was an opportunity for everyone to snap those silly photos that are made possible by the salt plains
homogeneity. People were stripping off clothes and making the strangest poses with the oddest props imaginable. Johnny practically had to drag us away from our elaborate set ups. We had a long way to go to reach our salt hotel on the edge of the salar. We generally always had a long way to go and our trip involved more driving than stopping. Driving through Salvador Dali deserts (it's really called that), driving past salt-crust edged lakes in a multitudinous colours, past volcanoes and rocks and mountains to finally arrive at Laguna Colorado. This was a close second for the most impressive highlight after the Salar. A lake that turns red when the sunlight activates the algae within. Where thousands of flamingoes waded regally, skimming the milky red water with their beaks. Crooning and calling to each other in a strangely calming song. An absolutely magical place. If only we could have had more time there.
But no, if Johnny wasn't chasing us into the car like an indulgent schoolteacher it was the cold that set in as soon as the sun was gone. It would only get worse though as we were at our trips highest. In the
freezing cold hours before dawn we were up to visit the geysers 'Sol de la Manana' and even the hardy Czechs couldn't hold out for more than a few minutes admiring the bubbling, steaming pots of mud. It was at least minus twenty degrees celcius! So we all bundled back into the car to get to the thermal baths as soon as possible to thaw out by wallowing in it´s waters.