bolivian epics
The first thing that greeted us in Bolivia was a blockade a kilometre long and three trucks wide at the border. Unhappy 'camioneros' were protesting some paperwork bureaucracy. They were transporting a huge amount of second hand cars - originating in Chile and perhaps further afield if the chinese script plastered all over the city buses is anything to go by. Bolivia lost her seaports to Chile in the War of the Pacific and maritime access issues still feature in the headlines.
The blockade problem was eventually solved after a two hour wait for us. The next hurdle involved passing through customs. The usual blank faces on seeing the South Africa - Liechtenstein passport combo. Enough to fluster any border guard but this time there was more to it. Apparently I needed a visa even though I had checked online before I left. After a bit of indecision on their behalf as to whether they should send me straight back to Chile or allow me in on conditions luckily they chose the latter option. I was to report to Migracion in Oruro within 48 hours. Once through it was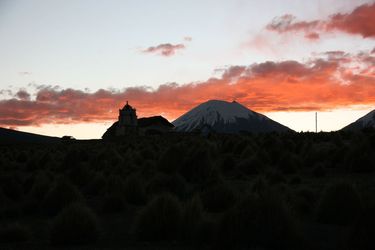 a cold but thankfully short ride to a small town called Lagunas at an altitude of 4100m with a stunning view onto the volcanoes Parinacota and Sajama. There we found a place to stay with a friendly couple and their two cute daughters. All the talk of the reservation and unfriendliness of the locals did not make itself apparent on this our first night in Bolivia. We slept restlessly due to the altitude and our rapid ascent: sea level to over 4000m in a day. Axels bike also had trouble with the height and refused to start the next day but luckily jumper leads got it going again. We wanted to make our way to Patacamaya - a crossroads town with roads leading north to La Paz and south to Oruru and beyond.
I had always imagined the Altiplano to be a cold and bleak place. The nights were always well below freezing but the days were sunny and - if you weren't riding a motorbike - warm. The landscape was surprisingly varied - endless plains of ripe-pear yellow grass with a crest of hills in the distance, or gorges and valleys cut into ochre rock with idyllic riverside village scenes. It was the first time in south america that I saw houses as you do in parts of Africa - homemade sunbaked bricks and thatched rooves framing small compounds. We saw children and grandmothers tending flocks of sheep or llamas and men threshing cereals or working in the fields of quinua, a native cereal. The women were dressed in those characteristic flounced skirts and black bowler hats and had stripy, colourful cloth bundles on their backs.
In Patacamaya we found a hotel with a courtyard for our bikes and went out to find food. It was a strange place, a point of fusion between the rural and the urban. It obviously served as a central point and bus stop for outlying villages and it was pure stress and hectic the whole day long and into much of the night too. Whole families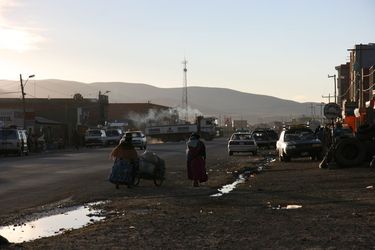 with their meager belongings bundled up in those typical fluorescent pink stripy cloths waited at the roadside for a bus or an opportunity. The poverty of the rural people was more evident here in the town than it had been out in the country. Displaced and in a strange world without the resources that I imagine subsistence farming can offer.
The last altiplano epic had decided the type of road the Russian would be limited to from now on - only tar! So in Patacamaya we organized long term parking for the sidecar and squeezed the bare necessities onto Perla Negra. Ready for a two week trip to explore the south of Bolivia. This time no tent or cooking gear as here we could afford to live a bit more 'luxuriously' with a double room only costing 10 dollars and a meal for two the same or half of that if you ate where the locals did. Between Patacamaya and Oruru were the same golden plains with outcrops of orange rock but this time there were many more villages. Arriving in Oruru, our first obligatory migration stop, the main drag was lined with fantastic statues made from scrapmetal odds and ends, all in honour of the famous Oruro carnival whose participants dressed in elaborate costumes depicting devils, angels and animals. In a street market we got our first taste of pachamamism: llama fetuses, coloured wool and sweets in all forms on sale for offerings or 'challas' to mother earth. I managed to buy some raw llama wool there and a simple spindle from some camera shy ladies aswell as a few tips on how to get started. Spinning is something every 'campesino' (someone from the country) can do here and weaving an integral part of the culture.
We spent the day at migration completing all the necessary forms (in triplicate). The whole process probably would have been accomplished by one person in 10 minutes in Liechtenstein - but here it needed three people over the course of the day. They were friendly though and at least it meant three people had a job in this the poorest country in South America.
The next challenge on the schedule was Uyuni via Challapata. At Challapata we turned off the tar, paid a toll of 4 Bolivianos and were directed immediately onto a horrendous detour: a thick layer of powdery sand covering nasty boulders and ruts. For Axel with me on the back and all the luggage a barely in control drive from hell. After 10km of this we stopped a young coca leaf-chewing pick-up driver to ask how long it would be before the track turned back onto the main road. We were reassured that it wasn't much further but shortly after that was when we had our minor crash at a boulder disguised as sand.
See our crash site here (movie 4MB)
. It resulted in a nasty dent in the pannier and a few small bruises to our bodies but the worst were the bruises to our courage. Did we really want to carry on on this road? As mighty as Perla Negra was she couldn't handle this without damage and neither could we (spiritually speaking!). A few hundred metres further on (as we couldn't face going back on the same road) we turned onto the main road and breathed a sigh of relief. An extremely corrugated and at times sandy road took us through two villages and across plains edged by greener mountainous sections.
It was tedious with the corrugations and slow going. After the second village Axel stopped suddenly after noticing that no shock absorbing was going on. A look to the back and the entire contents of the shock absorber was splattered over the wheel. We were 30km away from the last village and 80km away from Uyuni but Uyuni was out of our reach without shocks. So back it was to Sevaruyo where we didn't have to ask around for long before finding someone willing to load up the BMW and us and take us back to the town where the tar had ended. Three hours in the company of Jorge and his younger brother over a rutted track that ran parallel to the main road, their theory being that a bumpy sandy road was better for the car than a corrugated one. Both were young, 16 and 20, and their family had some agriculture and livetock aswell as some transport on the side or vice versa. So a fairly well off village family. Jorge kept asking us the prices of all our belongings and wanted to buy them off us, a thousand dollars for the BMW was an especially interesting deal for him.