Pasos and Perros
After a funky ride on tar with plentiful curves we came to a split in the road where you could choose between a tunnel and more tar or a 3800m gravel pass. We chose the gravel and were rewarded with a cold but beautiful sunset border crossing. We overnighted at Puente del Inca, a disappointing dive with the Inca bridge having nothing to do with the Incas. The next morning we walked to a 'mirador' to have a look at Aconcagua before heading for the lowlands again.
Mendoza and more perros
Mendoza has a marvelous BMW mechanic called Carlos so we planned for a few days to check and fix all those thingamybobs on the motorbikes...bearings
in wheels, front forks and such like. So we were settled in at the local campsite long enough to get to know all the local strays aswell as the puppies the mom had hiding out in the drainage pipes. The one puppie was a cute and playful little thing and it liked to watch Axel work on the russian or sneak into the tent for a cuddle. At that time our feelings of responsiblity for the canine vagabonds ended at feeding them the meal scraps. This all changed however when Axel was accidentally involved in the puppy breaking its leg. A taxi to the veterinary hospital and 80 pesos later we had an unhappy puppy with a cast on his leg. Pobrecito. Now we definitely couldn't abandon it to its fate as a stray. We weren't the only suckers taken in by the puppies, Khim and Kataryna, a swiss couple also on a BMW, had taken to feeding the pups and their Mom too.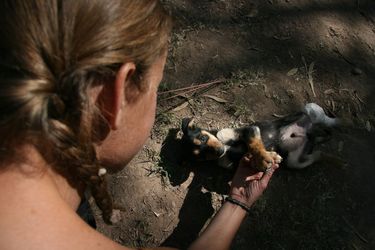 The mom was, incredibly enough, pregnant again and one morning Kati called us over to show us the cause of their sleepless night. Six tiny puppies, two dead ones and a protective mama in the bell of their tent! Another 6 mouths to feed and find a home for. Just goes to show the problem with strays in Argentina where no government sponsored sterilisation program exists. It wasn't the first time we had come across the problem, a farmer in Tierra del Fuego said he lost over a 1000 sheep yearly to stray dogs from town.
Cajon de Arenales
The injured puppy was in capable hands with Khim and Katharyna so we could take a break from the city. We rode a 170km south to go climbing in the Cajon de Arenales - A rocky Andean valley with some sport and trad climbing on granite. We left the yellows and reds of the vineyard plains behind to slowly wind our way up into the mountains. Despite the season we had warm winds strewing multi-coloured leaf confettis in our path as we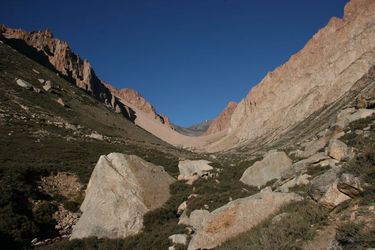 headed for the town Manzano Historico (Historical Apple tree) settled in a nook of the foothills. Once in the Cajon de Arenales the Refugio was back along a steep and rocky road not suitable for Russians so we opted for the 'moto' camping version. Near the road and next to a river where we wouldn't have to lug anything anywhere. Once the weekend was over the valley was empty of people and strangely quiet after Mendoza. A pity the nights were so cold because the stars were fantastic with the Southern Cross standing out brightly in a sparkling Milky Way.
The first climb we did was a 4 star multi-pitch sport route called El Condor Pasa. Well named because we saw two adults and a juvenile cruising above us several times during the climb. The next few days we spent mostly on the equipped routes with our one attempt to climb a pure trad failing miserably. We spent hours walking up to where it should have been and then hours looking for it with no luck. At least we could get a bit of exercise at 2500m on steep scree slopes. The 4 and 5 star sport routes were a real treat though, clean rock with a variety of climbing from cracks to slabs. Our week in the valley was like a health spar after the noise and din of the city: fresh air, tranquility, lots of reading and some climbing.
After climbing we returned to Mendoza to find our little 'pegleg' weak and skinny so Kati and I visited the vet again this time for a round of vaccinations. His brother would get the same shots the next day but we would be on the road by then. Kati has been keeping us informed though: pegleg is healthy again, his brother has a home and the rest have been taken in by an Animal shelter. Hope everything will turn out alright for our campsite family.