13.5.2008 Tierra Amarilla, Chile


S. Vicente de Tagua Tagua and Santiago
A three day ride (including a badly chosen detour via Concepcion at the coast) brought us to Matias and Angela in San Vicente de Tagua Tagua. A leafy, tranquil town set in the heart of Chiles wine and fruit growing
district. Angela is the cousin of an ecuadorian friend (and spanish teacher) of ours in FL. As we had never met before it was an interesting wait at the central plaza of S. Vicente trying to figure out which person checking out our bikes fit the profile for Matias, and there were quite a few of them. We were made to feel very welcome being invited by the family to a sumptious birthday lunch and a huge barbecue the very next day. A treat after 3 days on the road. Matias' parents cultivate lemons and avocados so we got an interesting tour of the grounds by Matias. The 'asado' or barbecue in the evening was for the workers who had just finished the harvesting of the lemons and Axel was the centre of attention. Completely surrounded by weathered workers plying him with drinks and barraging him with questions revolving around woman, money and argentine/chilean rivalry.
We had decided we didn't want to suffer the big-city traffic of Santiago on our bikes and instead went in by bus from S. Vicente. A nice change to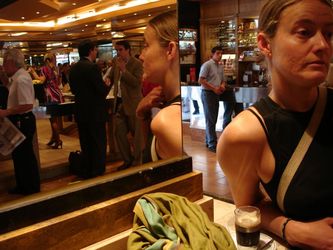 leave the bikes behind and to overnight in a city hostel just like a backpacker. The nightlife was not one of the major highlights of our stay there as we happened to be there on a monday but we made up for it by chilling with pisco sours on the balcony of our funky hostel Luz Azul. Apart from tracking down a new pump for our stove we also managed to visit the Pre-columbine art museum and Pablo Nerudas house on top of the usual foot bruising walking tours of the city.
A festive farewell at Angela and Matias' went long into the night with wine tastings and presents and the next morning we left a hungover Matias behind...on a work day.
Pablo Neruda and his houses
After S. Vicente we headed for Isla Negra to visit the favourite and famous home of Pablo Neruda. A very popular Chilean poet who became the third south american and second chilean to win the Noble prize for literature.
We had already had a taste of his style when we visited his Santiago house: immense collections of anything colourful and interesting, arquitecture reminiscent of tall ships and the sea life and most importantly lots of bars! His ship's figurehead and bottle collections were impressive.They say he was inspired best at his Isla Negra home and I could well imagine that with the rocky beach and pounding surf right on his doorstep. The third house was in Valparaiso and it too had a lot of love and care put into every detail. It was situated high up on the steep hills of Valparaiso with fabulous views over the whole city and bay. How sad that much was lost when the three houses were trashed by Pinochet and that Pablo himself died just 12 days after the coup.
Valpo
A fabulous and my favourite city to date. It oozed culture and
history from every grimy yet colourful pore. This time we managed to make it for the weekend and the nightlife was pumping. We visited some watering holes like the Cinzano, dating back from the windjammer days where Elvis styled crooners sang tango and Fred Astaire tunes. Walking the steep, labyrinthine streets and walkways was like a treasure hunt with murals, historic buildings and creative graffiti to be discovered around every corner.
Llay-Llay and climbing, then onto Argentina
Our stopover in Llay-Llay to go climbing proved entertaining with a two night stay at a casa de familia. We had the added bonus of seeing Illapu (a
popular music group) at the towns yearly birthday celebration. A free concert with hardly a soul drinking, a result of Chilean laws against drinking in public. Climbing wasn't so great, It being right next to the highway. We only climbed one day then it was yet another border crossing to Argentina. The family were really sweet and friendly and didn't want us to leave, stocking us up with cookies, dulce de leche and jams and one last lunch before we left.